Mini Maker Market is a kids-only market that began with a single booth in front of our original studio.
Since 2012, Mini Maker Market has been included as part of Guelph's annual Art on the Street event. In our opinion, this is the cutest feel good event in Guelph and we are so happy to be able to offer it.
MINI MAKER MARKET RETURNS ON JUNE 24, 2023!
How it works
Children set up shop with a cute as a button booth and keep any profits they make! There is no fee to participate and young Artists can sell whatever creative idea they come up with from displaying their art, selling handmade wares, or providing services, such as face painting or portrait drawings!
The Artists, although children, offer unique and authentic artwork that always amazes the community. We are continually amazed at the ingenuity and creativity of all the mini makers who show up and run their little pop up businesses for a day.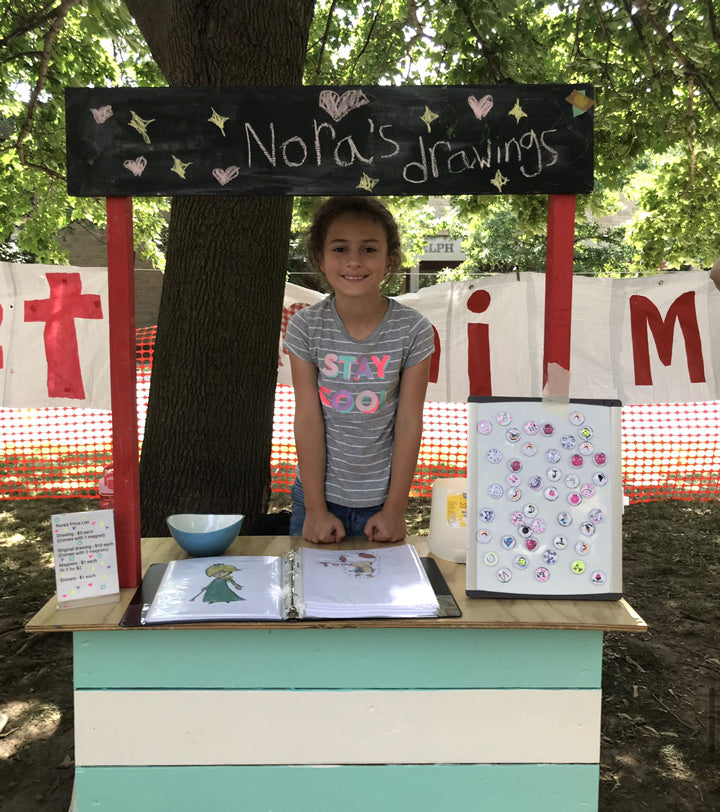 2023 mini maker market info
This year's event takes place on June 24, 2023. 
Booths are available in two -hour time slots:
10 a.m. - 12 p.m.
12 - 2 p.m.
2 - 4 p.m.
There are 15 booths available for each time slot. 
There is no fee to participate, but booths fill quickly so don't wait to sign up. 
The Mini Maker Market is set up under the big shady trees at IODE Fountain Park, across from the main branch of the Guelph Public Library at the Norfolk/Paisley/Yarmouth and Quebec Street intersection.
Sign Up!
market love from grown-ups
"This is such a cherished memory I have from when my daughter was young! Hope all the families participating have just as much fun as we did!"
"I miss the days when my girls had booths, they loved it so much! I can't wait to see what the 'next generation' creates!"
How mini maker market started
The origins of Mini Maker Market came about through Melissa's own children, who always wanted to set up a lemonade stand in the front of the house in the summer. They ended up making their own booth that stayed outside all summer, and the kids had a blast.

When we started our studio, the lemonade stand was always something that I wanted to offer as it is such a traditional childhood first business and encompasses the same philosophical spirit of our studio: the process is almost always more fun and children's ideas are valuable and worth pursuing.

We designed and built the booths ourselves and when they are all set up, they really grab people's hearts and attention. Customers are very generous and the participating Artists normally sell out of the items they make. Often, whatever profits they do make, they end up going to supporting the other artists participating, making this event both visually picturesque but also so heartwarming and filled with community love for one another.